Custom Candles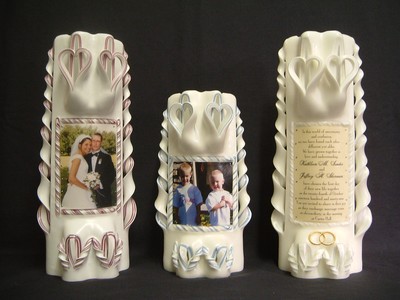 Custom candles are exactly that, we follow your instructions on color, size and style to come up with a one of kind candle.
You can put wedding invitations, special photos, birth announcements, etc..
In order to make a custom candle we need you to give us some important information.
1. The Color you want the outside of your candle to be. ( We recommend light colors as to not detract from the picture or invitation.)
2. The Color stripes you would like inside the candle. ( Please be as specific as possible. Ex. Light blue, Fire Engine Red, Hunter Green.)
3. What size you would like your candle to be.
12"- This candle fits a 4"x 6" picture.
9"- This candle fits a 2.5"x 3.5" picture.
6"- This is limited to a wallet size picture.
For more information on how to order a custom candle please contact Info@houseofcandles.com
We will get back to you as soon as possible to follow up on your request. (usually within 1 business day)